PCB Solder Mask Delamination
GideonAnalytical Laboratories received several Printed Circuit Boards (PCBs) that were experiencing delamination of the solder masks, specifically on the EMI filter card. A PCB mechanically supports and electrically connects electronic components using conductive tracks, pads and other features etched from copper sheets laminated onto a non-conductive substrate. Components (e.g. capacitors, resistors or active devices) are generally soldered on the PCB. Advanced PCBs may contain components embedded in the substrate. Electromagnetic interference (EMI), also called radio-frequency interference (RFI) when in the radio frequency spectrum, is a disturbance generated by an external source that affects an electrical circuit by electromagnetic induction, electrostatic coupling, or conduction.The disturbance may degrade the performance of the circuit or even stop it from functioning. In the case of a data path, these effects can range from an increase in error rate to a total loss of the data.
Gideon Analytical Laboratories performed failure analysis on the several PCBs. A visual observation revealed that there was delamination of the solder mask on several areas of the cards. It involved flaking, peeling, blistering, and no adhesion. The film-forming properties of the solder mask in areas where flaking occurred was fine, meaning there was good leveling, it was cured, and there was no obvious contamination present. SEM-EDS analysis was conducted. No contamination was found on any of the PCBs. The root cause of the delamination was moisture during production.
Gideon Analytical Laboratories is a world-class analytical laboratory that has been solving problems for dozens of years. Our people have the knowledge, the motivation, and the analytical equipment to solve almost any problem involving electronics. Moisture and electronics don't generally mix; let us tell you exactly what is going on. Chlorides and electronics generally don't mix; let us tell you what is going on. Solder masks on PCBs should not be delaminating; let us tell you what is going on. You want your products to work correctly. If and when they don't, give Gideon Analytical Laboratories a call.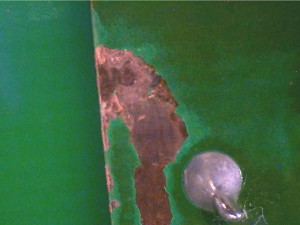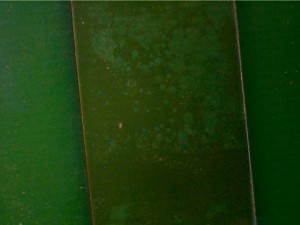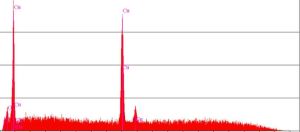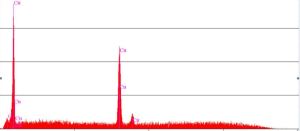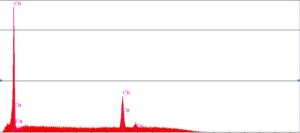 Start solving